Jewelry of the Georgian era was light, elegant and refined. Indicative of the rococo style, rings worn by day often featured delicate combinations of colored stones, many in bright asymmetrical giardinetti bouquets or elegant ribbon and bow designs supported by gracefully divided shoulders.
In a tribute to popular pastimes, rings were also designed as hands of enameled playing cards, fancy dress masks or even musical instruments.
The more formalized neoclassical influences of the latter 1800s led to a return of symmetrical settings and elongated bezels in a myriad of shapes including oval, navette, lozenge and octagonal.
These larger bezels frequently supported larger single stones surrounded by frames of coruscating diamonds or pearls. Others were more simply flanked on either side by a pair of rose or brilliant cut diamonds. Featured stones were frequently either semi-precious or paste, affecting an opulent look at a much more reasonable cost. It should be noted that paste jewelry was respected in its own right and carried by the finest jewelers of the day.
Stone settings progressed from enclosing the underside of the stone from the girdle down to a lighter, narrower collet setting. Castellated collets imbuing the piece with a more refined and delicate appearance were a further innovation. In more expensive pieces, attention was also given to the underside of the setting with ribbing detail on the backside that gave a more polished and detailed finish to the piece. While most gemstones were still foiled and backed to enhance color and brilliance, a greater understanding of the mechanics of light dispersion led to open back, à jour settings, on finer gemstones.
Rings were usually crafted in 18 or 22 karat gold while silver or silver topped gold was used for diamond mountings. In many cases, the backs of silver mounted diamonds were foiled and covered in an additional layer of gold to prevent tarnish markings. Pinchbeck, a widely used gold imitation of the time was also used. Popular gemstones of the era, besides diamonds, included: rubies, emeralds, sapphires, amethysts, garnets, pink topaz, turquoise, and opal as well as shell, coral, and mother-of-pearl.
Known as the age of enlightenment, the eighteenth century's neoclassicism had its roots in the traditions of ancient Greece and Rome. The ardor for the classicism of the past was fueled in part by the tradition of sending the sons of the wealthy and well connected on what came to be known as "the Grand Tour" of Europe. Inspired by the artifacts of Rome and Greece many began collecting antiquities including intaglios and cameos inspired by or fabricated in ancient Greece and Rome.
Once again, signet rings became a popular adornment and reinvigorated the art of gem engraving particularly in Rome. A wide range of subjects including details of ancient cities, sculpture, contemporary rulers, military heroes and popular authors were chosen as subjects for signets. While there were always exceptions, the most common setting was a simple oval or round bezel in the spare elegant Roman style. Such was the demand for and cost of these pieces that replica of ancient engraved hardstones and gemstones became quite popular. The most well-known and finely manufactured of these were made in London by James Tassie. Made of paste that could simulate all manner and color of gem material, over 15,000 reproductions of both modern and ancient gems were produced. While some signet rings were still worn for practical purpose, the emphasis was now firmly on effect and style.
The Georgian era covering the years between 1714 and 1830 was very much associated with a spirit of romance and the celebration of the bonds of friendship. Fede and gimmel rings were still popular as was the closely related Claddagh ring featuring a single bezel of two clasped hands holding a heart surmounted by a coronet.
The heart motif was by far the most highly used symbol of love during this era which included many other insignias such as lovers knots, keys and padlocks, turtledoves, flaming torches, putti and wishbones. Hair was also a common element in many rings of sentiment. The plaited locks of a son or daughter or grandchild as well as those of a wife or lover were incorporated into rings in a variety of methods: woven into ciphers, secreted in glass compartments, braided into bezels and combined with portrait miniatures.
In keeping with the era's more playful characteristics were regard rings, first introduced by the French firm Mellerio in 1809, which used the first letter of the gemstone to spell out affections such as ADORE (Amethyst, Diamond, Opal, Ruby. Emerald). French was still the language of love, used in poesy rings and in the visual and phonetic puns of rebus rings which used pictures and words to express a sentiment. Pense de moi (think of me) was represented by an enameled pansy followed by the letters LACD which phonetically translate to Elle a Cédé (she has yielded). After 1770 the style of elongated bezels supported more elaborate tableaux that could combine several different symbols.
Marriage rings of this era ranged from plain gold or silver gilt bands to the increasingly popular diamond ring. Frequently a pair of keeper rings, usually of narrow diamond hoops, was worn on either side of the wedding ring to keep it secure. By the 1800s, a diamond became the most common betrothal ring; the keepers evolved into the simple wedding band that is traditionally given during the marriage ceremony. The wedding ring was now traditionally worn on the ring finger of the left hand and it was also customary for men to wear a ring.
In France the marriage ring, known as the alliance, was inscribed with the dates and initials of the couple and was frequently accompanied with the piece de marriage – a medal that also contained the married couples initials and marriage date. A favored theme of the alliance was the romantic design of twin gemstone hearts, sometimes pierced by cupid's arrow or united under graceful girandoles. Another custom of the day was to present a ring with the bride's new cipher to mark the change of her name to that of her husband. Diana Scarisbrick notes:
It was also customary for a bride to receive at the wedding a ring with the initials of her new married name, at first executed in rose diamonds in an open work bezel and, in the second half of the century, often elaborately intertwined applied on a dark blue background.8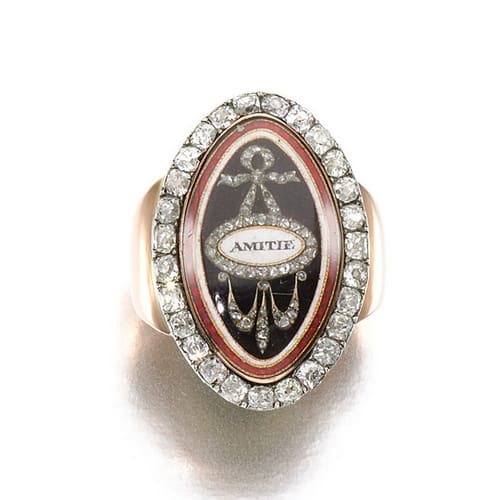 Georgian Memorial Ring with Guilloché and Opaque Enamel.Underside Featuring a Clear Compartment with a Lock of Hair.
Photo Courtesy of Christie's.
Memorial rings reached their height of popularity in the eighteenth century. By far the most popular form of mourning jewelry it was common to make provisions in wills to distribute them to an ever widening circle of family, friends, and acquaintances.
A typical mourning ring of the mid 18th century featured a gemstone or crystal bezel, some in the shape of a coffin, and the name and dates of the deceased engraved on enamel or gold bands. Under the crystal bezels, images of skulls and crossbones were frequently mounted on silk or hair and the more extravagant examples had diamonds at the shoulders. Simpler bands engraved with aspects of death and burial were also distributed with an inner inscription of pertinent details.
As the century progressed, the more romantic influences of French design prevailed and images shifted away from the stark reminders of mortality to an emphasis on representing death and mourning more symbolically. The inscription moved to the outside of the band replacing skulls and skeletons with lettering of raised gold against a background of black or white enamel.
Georgian Mourning Ring of Two Unmarried Siblings as Indicated by the Use of White Enamel.
Walters Art Museum.
The color white signified the death of a child or an unmarried individual; an all too common occurrence. The Neoclassical designs of the later 18th century were more elaborate and allegorical in their design themes. Mourning rings of this period were larger, featuring oval, marquise and oblong bezels decorated with mourning miniatures. These frequently featured scenes incorporating such symbols as broken columns of Roman and Greek ruins, weeping willows, funeral urns, and streams representing eternity.
Hair was sometimes incorporated into the making of the pictures directly, either ground to make up the paint itself or using single strands to form images such as the branches of a weeping willow. Other mourning rings prominently featured elaborately plaited or braided hair under a glass locket. Frames were often classically plain although borders of pearls (representing tears), diamonds and enamel were also widely used. The most extravagant memorial rings, reserved for those of rank and high social standing could be quite sumptuous with rings featuring heraldic enameling or deep blue guilloche enameling surmounted by diamond funerary urns and diamond framing