Rings of the Middle Ages
The most widely worn piece of jewelry, both by men and women in the Middle Ages was the ring. Decorative and easily worn, hands were often heavily bejeweled with each finger, including the thumb, adorned with several rings on different joints. Rings were sometimes worn in a variety of other ways as well; suspended by a cord or ribbon worn round the neck or tied round the arms, threaded onto rosaries or attached to a hat.3
By the mid-1300s ring wearing was such a symbol of rank in Europe that sumptuary laws were introduced in an attempt to regulate their wearing at appropriate class levels. Gold and silver rings set with precious jewels were to be reserved for royalty and nobility and base metals such as pewter, gilt bronze and the copper alloy, latten were reserved for those of more quotidian origins.
Decorative rings, during this time, were frequently made in a straightforward stirrup style in which a plain hoop inclines up to a bezel containing a gemstone. Most gems were cut en-cabochon until the fifteenth century and their uneven outlines were most easily set with a simple pronged claw setting or a collet setting pressed around the gem.
By the fifteenth century settings had become more elaborate with a scalloped bezel surrounding the gem. This scalloped design was sometimes referred to as a "panse" by the English in reference to its flower like outline.4The bezel was often supported by more decorative shoulders, worked with designs such as scrollwork, leaves, flowers, and dragons and embellished with niello and enamel. As for the gemstones themselves, they were chosen not only for their intrinsic value and beauty but also for the talismanic properties they were thought to possess. Direct contact of the stone with the skin was believed to amplify these medicinal or amuletic benefits and rings were particularly suitable in this aspect. The author Marian Campbell writes of a few of these properties that medieval lapidaries ascribed to certain gems including:
…sapphires could expel envy, detect fraud and witchcraft. Rubies were believed to promote health, dispel bad thoughts, reconcile discord and combat lust. Emeralds were thought to be a cure for epilepsy, helpful for eye troubles and for increasing wealth. And the turquoise was believed to guard against poisoning and to prevent falls when out riding. The diamond (which takes its name from the Greek adamas, meaning invincible or untamed) gave courage, as well as protection from nightmares.5
Surviving examples of medieval rings indicate that the most popular gemstones were sapphires, garnets, rubies, amethysts and rock crystal and to a lesser extent, diamonds.6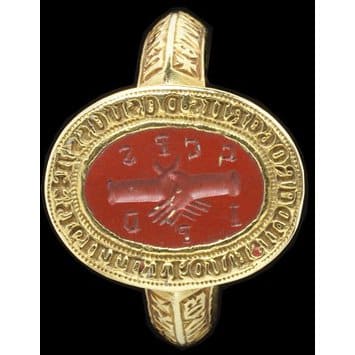 Thirteenth Century Ring with a Previously-Used Roman Intaglio from the Third Century AD.
© Victoria & Albert Museum Collection.
Signet rings were used extensively during the Middle Ages in authenticating messages, sealing business documents and personal letters and as marks designating guilds and merchants. The intaglios carved by the ancient Roman and Greek craftsmen were particularly prized and spurred a revival in the craft of hardstone carving in the 13th century. Bezel and hoops were frequently engraved with the owner's name and various phrases in Latin or French. Rounded capitals, known as Lombardic script, was used up to c. 1350 and from then until after 1500, the lettering used in inscriptions was in the spikier Gothic style of script. A significant development in signet rings during this period was the use of heraldry as a distinguishing design. The earliest examples are thought to be Italian but by the 15th century heraldic signets displaying coats of arms and other insignia were widely worn by all who were entitled to do so. A notable enhancement was the foiled crystal insignia in which the brightly colored coat of arms was painted underneath the engraved crystal keeping the colors intact when pressed into wax.
The Middle Ages saw the flowering of chivalry and courtly love. Rings of friendship and love were popular and were frequently inscribed with sentiments of affection. The fashionable poesy ring was a hoop of gold with a short poem, a "poesie", inscribed on the band in either Latin or more typically, in French, the language of romance. Many of the phrases are often repeated suggesting that jewelers carried an inventory of the more popular phrases. Some of the favored poesies include mon cuer avez (you have my heart), due tout mon couer (with all my heart), and amor vinicit omnia (love conquers all).
More elaborate versions were decorated with simple enameled designs of leaves, flowers and teardrops, expressive of tender emotions. Those with means also used gemstones, most particularly if the ring was to be used as a symbol of marriage. Another popular ring of sentiment during this era was the gimmel ring (from the Latin gemellus for twin) made of entwined double or triple hoops that represented the bonds of friendship and love. Believed to be French in origin, they were often combined with the fede motif of ancient Rome which had made a reappearance as a marriage ring as early as the 12th century in England. Another marriage ring that was created during the Middle Ages was the Jewish marriage ring. Most often made of richly enameled and filigreed gold, these rings sometimes featured fully dimensional miniature houses symbolizing the nuptial home or the Temple of Jerusalem. As such, they were reserved for symbolic use during the marriage ceremony being too unwieldy to wear on a daily basis.